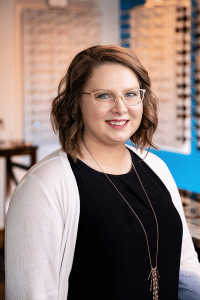 Samantha Johnson
Office Manager
Samantha joined the Olson Eye Care team in 2016 as Dr. Olson's technician. She then learned the ins and outs of optical while attending classes at UNO to obtain her bachelor's degree and is now an Optician for the office. She has also completed medical billing courses and became the office's billing specialist. Her goal is to help better the office in any way she can and make sure that every patient who comes into the office is satisfied with their visit. Samantha is newly married in September of 2018. In her free time, Samantha and her husband enjoy traveling to Canada, boating, fishing, and spending time with family.
Trisha Bradley
Certified Ophthalmological Assistant
Trisha Bradley, our self proclaimed "Eye Nerd", joined the Olson Eye Care team in July of 2018 and has been an outstanding addition. Her efficiency and dedication to the highest level of patient care is second to none. She has worked in the ophthalmology industry for 17 years as a certified ophthalmological assistant. She is passionate about the care she provides our patients. She strives for effective communication and properly educating patients on the status of their ocular health. Trisha also believes in a professional, fun working environment, so don't be surprised if you see her being a little ornery, having fun, and giving Dr. Olson a hard time. One thing is for sure, Trisha is going to take great care of you and all your eye care needs!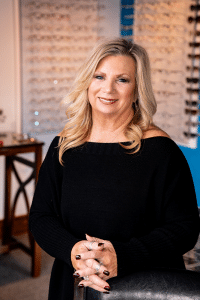 Poochie Knutson
Optician
Poochie has been working in the eye care industry for more than 35 years, and with that experience comes the ability to provide great care for our patients in many different ways. She has an impressive sense of fashion and style that greatly assists our patients in finding eyewear that truly compliments and energizes their appearance. She takes immense pride in her work and strives to make every patient's experience at Olson Eye Care the best it can be. Her goal is to make sure that every patient leaves completely satisfied with the care they have received, their clarity of vision, and the look of their new eyewear selection. In her free time, Poochie enjoys traveling, taking a relaxing Harley ride with her partner in crime, and spoiling her grandchildren as much as possible.