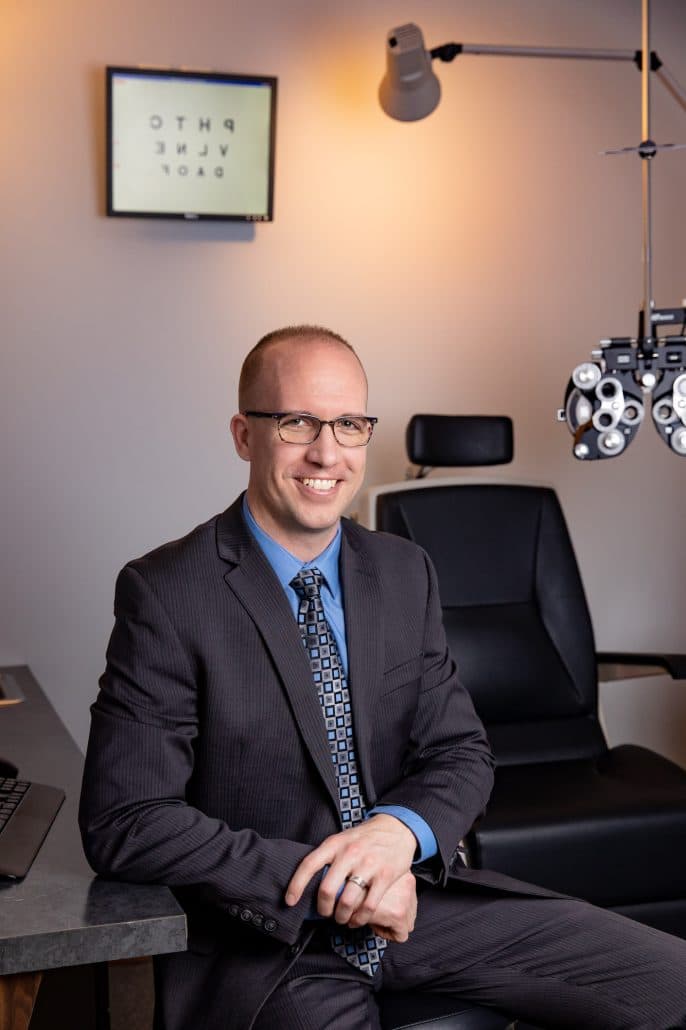 Meet Dr. Chris Olson
Dr. Chris Olson was born and raised in Lincoln, NE where he graduated from Nebraska Wesleyan University with a major in Biology and minor in Chemistry. He then continued his education at The Pennsylvania College of Optometry at Salus University in Philadelphia where he graduated with honors. His externship rotations consisted of training in ocular disease, binocular vision, and low vision in Omaha, NE; contact lens and laser vision correction in La Jolla, CA; low vision and vision rehabilitation in Philadelphia, PA; hospital based optometry in Bethel, AK with the Yukon-Kuskokwim Health Corporation serving a 75,000 square mile region of western Alaska; and ocular disease in Hallandale, FL. Throughout his training he has cared for patients with a variety of severe eye conditions, including but not limited to; macular degeneration, diabetic retinopathy, hypertensive retinopathy, and glaucoma.
After his graduation in 2010 Dr. Olson moved to Council Bluffs and quickly became very involved in the community. In 2013, Dr. Olson and his wife Kari decided to make Council Bluffs their permanent home and opened Olson Eye Care, PLC.
Dr. Olson's wife, Kari, works for the Area Education Agency as a Special Education Consultant. Dr. Olson, Kari, and their two daughters, Macy and Mallory, enjoying spending time together doing things outside. They enjoy bike riding, going to the pool, and playing with their dog Rusty.
Dr. Olson is a very hard working, outgoing, and fun loving individual who in his spare time enjoys spending time with family and friends. Other interests include watching and participating in sports, especially: football, soccer, golf, mountain biking, snowboarding, and auto racing. If it's outside and adventurous he probably likes it.
Dr. Olson resides in Council Bluffs, Iowa and is licensed to practice in Iowa and Nebraska. He is a member of The Iowa Optometric Association, The American Optometric Association, Council Bluffs Noon Rotary, Impact CB, Chamber of Commerce, and Christian Home Association Children's Square Foundation Board. He looks forward to meeting you and taking care of all your families eye care needs.
1-712-256-1111
320 McKenzie Ave. Ste. 206
Council Bluffs, Iowa 51503

olsoneyecarecb@gmail.com
Business Hours
Monday: 8:00AM - 5:00PM
Tuesday: 8:00AM - 5:00PM
Wednesday: 9:00AM - 7:00PM
Thursday: 8:00AM - 5:00PM
Friday: 9:00AM - 5:00PM
Saturday: The first Saturday of the month from 8:00 AM - 3:00 PM
Sunday: CLOSED